I have been working on this bike for about a year now. I thought I'd start off this board with its current state as I just finished the framework yesterday.
It started life as a 2006 Hyosung GV650... (modified of course)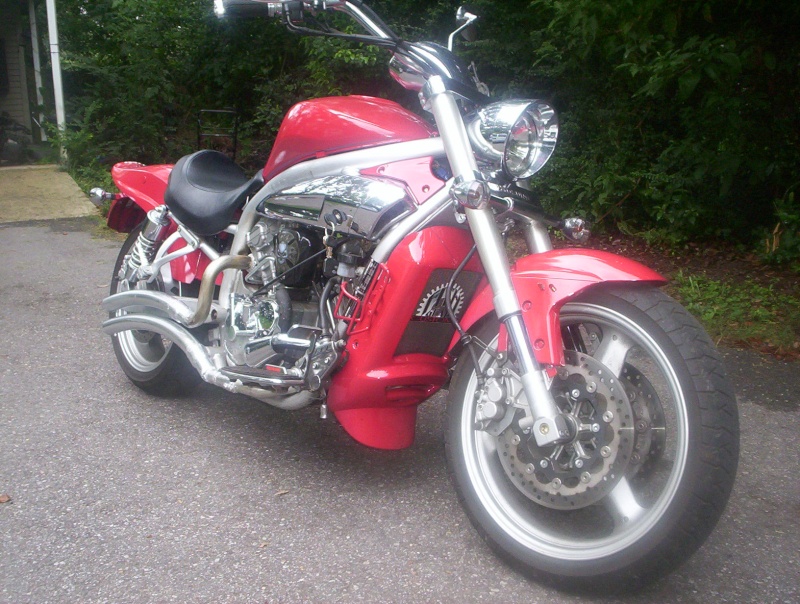 Then in 2008, It was showcased at the Atlanta International Motorcycle Show at the CycleWorld competition. 10 bikes were selected out of 553 entries to compete at the show and the crowd would choose the winner. I morphed the cruiser with a sportbike and entered this: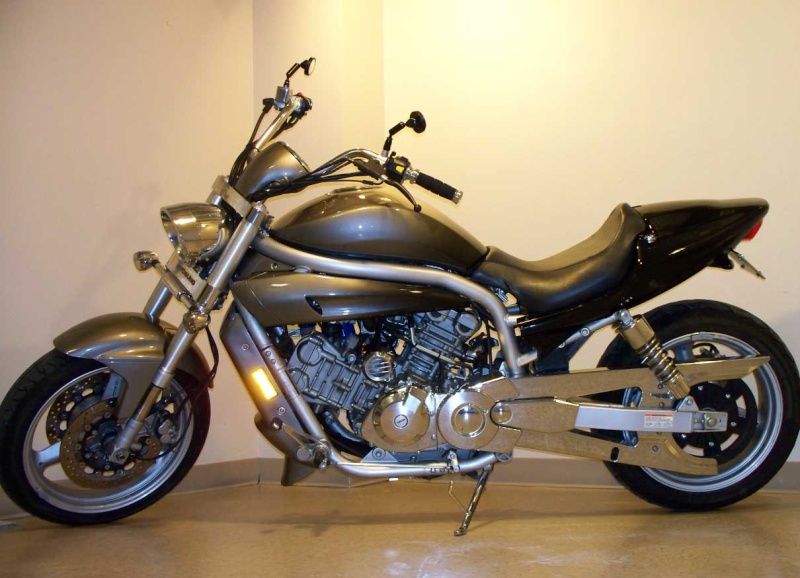 I didnt win - but I was the only bike that was registered for street use, so I felt ok about how far I got.
But it just wasn't radical enough. So in 2009, I striped it down, cut out the engine, engine cradle, and neck, and threw out the rest. I made my own single backbone rigid frame, added sportbike front forks and trees, and I just finished roughing up the new extended swingarm. I am using 150 series wheels (front and rear). Although the picture isnt that great - you get what it looks like now.
I plan to use a pair of fatbob style tanks to cover the ugly carb setup and air intake. The NOS bottle is the radiator resevior, but no one knows that! bwhahaha.
anyway - thats the chopper project so far...
I've thought about grabbing up one of those hyosungs
That is kewl. I am impressed with all the work that you have put into it. I cant wait to see the finished pics.
______________________________________
I tried being NORMAL once.....It didn't work out.
LIFE'S SHORT,RIDE HARD
The older we get, The fewer things seem worth waiting in line for.
Never, under any circumstances, take a sleeping pill and a laxative on the same night.

Admin




Posts

: 2930


Join date

: 2010-05-13


Age

: 48


Location

: Mobile,Al



Yeah that is a 10 on the badass-o-meter! Way to think outside of the box. Get a thread started in the shop section so you can post up pics of progress as you do it. I'd love to follow this build.
Middle of the Pack




Posts

: 544


Join date

: 2010-07-08


Age

: 53


Location

: Mobile (West Mobile), AL



Man that is just sick. Love it
Road Captain




Posts

: 1126


Join date

: 2010-05-28


Age

: 45


Location

: silverhill




---
Permissions in this forum:
You
cannot
reply to topics in this forum